13.05.2022
In Slovenia, father-and-son teams are defying mass tourism
In the Slovenian Alps, tourism has long been a mainstay of the local economy. In recent years, however, local people have been offering a calmer, slower kind of holiday.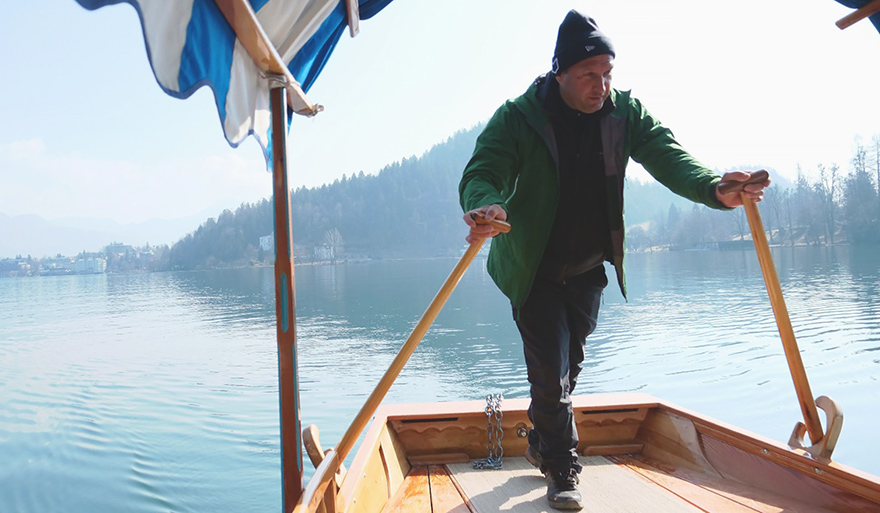 Bled (Slovenia)
Bled, a mountain village in north-western Slovenia, is surrounded by peaks on three sides. At 8am on Lake Bled, as the swans are still sleeping, Gregor Pazlar greets us with a firm handshake. Patches of snow still cover the high mountains.
For the last seven years, Gregor has been taking tourists to Lake Bled's only island in a boat called a "pletna", which can only be found here. Because of the early hour, we are alone on the lake. "Officially, we'll be the first ones on the island today," he notes enthusiastically as we paddle across. The mist is rising over the water, and Gregor is rowing without too much effort. Over the years of work, the technique comes naturally to him.
He is a chef by training, but became a "pletnar", or pletna boatman, after his father retired – it's not a profession you can adopt, you have to inherit it. Gregor was prepared to rely on his own hands rather than on diesel engines. The profession of pletnar can only be passed from father to son. When the time comes, Gregor will pass on his rights to one of his sons. "The first is 12 and the second is 9. They still have time to decide which one will be the pletnar," he says with a smile. He will start teaching them when they are 15. "They need to get some muscles first," he says mischievously.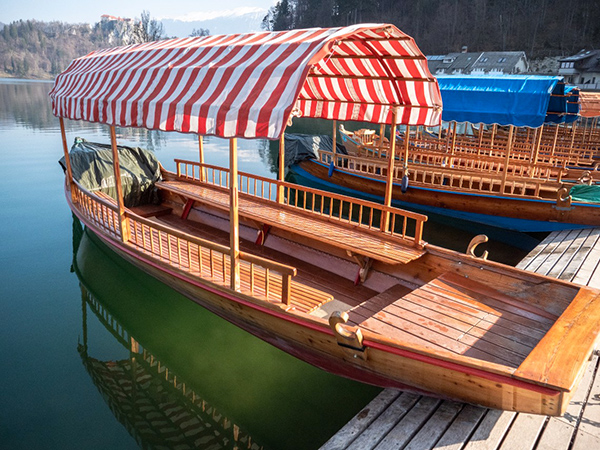 Gregor's pletna is moored in the main harbour of Mlino, one of three locations from which you can sail to the island of Bled. The castle boathouse, which stands not far from Mlino, has also been renovated as part of a European "slow tourism" project. The aim is to provide Bled's visitors with modern infrastructure and encourage them to stop and stay a while. Improving the accessibility and use of water-related tourism resources is part of the slow-tourism philosophy. And the island of Bled has always been perceived as a miniature world apart: it would be pointless, even disrespectful, to rush!
The first church on the island was built in the 11th century, and in the 16th century pilgrims began to arrive. The tradition of transport by pletna was already quite developed at that time. The Austrian Empress Maria Theresia ordered the local farmers to transport pilgrims to the island for free, in return for a tax exemption. The right was granted to 23 families at the time. Today, Lake Bled is still home to the same number of boats – and that will not change because of the profession's regulations.
Would you rename the boat if you divorced your wife?
Girls cannot inherit the profession from their fathers. Equality is of course essential, says Gregor, but the problem is that an empty boat weighs about 800 kilograms and can seat 18 people – a total of about two and a half tonnes. The female gender is at least present in the names of the boats, since the pletnars name them after their wives, daughters and other locals.
On Lake Bled there are Larisa and Gorenjka, while Gregor named his boat after his wife Barbara. And what if you were to get divorced?, we ask him wryly. "I'd just change it to something else," he smiles.
Bled people are born into tourism and they live on it, Gregor explains. But it also takes some getting used to, especially at times when there are a lot of visitors – too many, even. For example, you have to go to the shop at seven in the morning during the high season, because by nine o'clock everywhere is already packed out. But tourists have changed a lot in recent times. Twenty years ago, they were happy to just take a photo. These days they want a more active and varied holiday.
Nevertheless, the place aims to resist mass tourism, and instead strives for slowness and sustainability. The boats are made of local wood, handcrafted and painted with natural colours.
The first boats on Lake Bohinj
Around ten kilometres north of Bled, in the municipality of Bohinj, we visit the Rožič family. In their rustic guesthouse, stuffed animals stare out from the walls. It may seem quaint to the modern tourist, but this is the heritage of generations past. Boris Rožič, the head of the family, explains that in old Austria, a man with trophies was considered wealthy. The Rožičs are hunters too, he explains, opening a cupboard full of hunting equipment.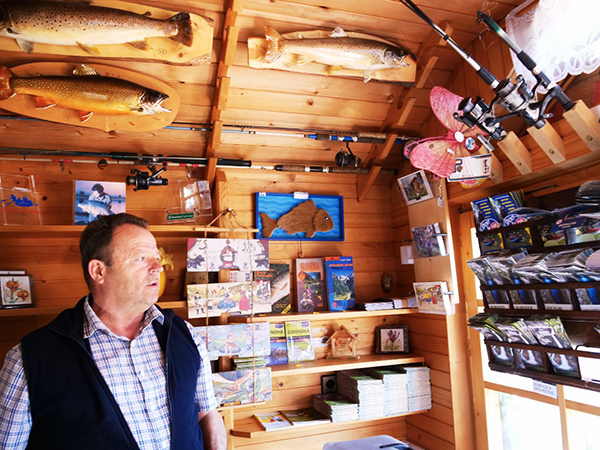 "Yes, there are a lot of tourists, and the locals, including my friends, notice that Bohinj is changing," explains Boris's youngest son, Aljaž. The infrastructure and the new hotels no longer resemble "traditional Bohinj". "But our father likes the facilities, and the locals come here every morning from 8 to 10 to drink coffee. They say that our inn is a 'community centre'".
Mr Rožič has been married twice in his life – his first wife "went away" and he now runs a boarding house with his second wife. Aljaž, the "baby of the family", is 20 years old. "He has finished high school, he is hard-working. Now he is studying something, but I don't know what exactly," Boris laughs.
He notes proudly that his son is also doing all kinds of work for the family business, including renting out boats on Lake Bohinj. The European slow-tourism project has enabled the municipality of Bohinj to set up harbour facilities for boats, including at the Rožičs's.
Bohinj: from Napoleon's swords to a tourist attraction
Boris Rožič is a native of Bohinj. His family's roots are in the area since the 16th century. The Rožič family has watched its development closely and noticed the changes. Until 1900 Bohinj was very isolated, but in 1902 (under the Austro-Hungarian Empire) the railway was built here. "There were also mills here, we forged swords for Napoleon," he proudly says. Their family also owned the first boats on Lake Bohinj. Boris's father brought the boats here for fun, and later spa tourism developed in the area.
Since then, a lot has changed and tourism has also changed, especially in terms of commercialisation. Visitors are respectful in terms of attitude. "The biggest problem is perhaps with respect to the instructions on how to handle the boats", says Aljaž. "Most of the time, it's the Slovenians who don't follow the rules! A modern tourist doesn't have much time to spend in one place", says the young man. Infrastructure development – including through European Union projects – is helping with the challenge. A lot has been done by building the facilities for boats, which encourages visitors to stop in Bohinj.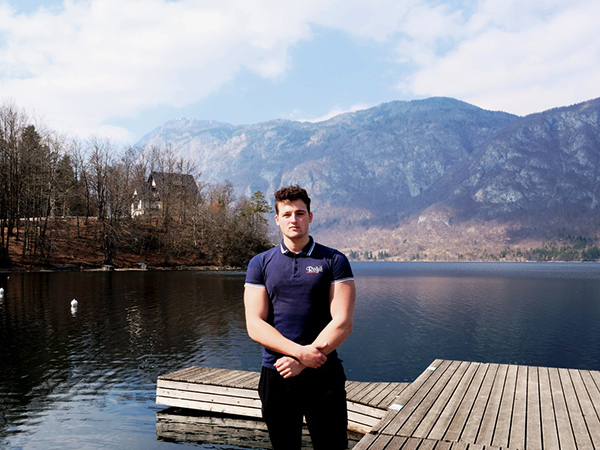 Aljaž feels very connected to Bohinj, its landscape and the lake. "Something draws me here. If I don't wake up with this view – for example now while studying in Ljubljana – it doesn't suit me. The first months in Ljubljana were hell for me," he says, adding that his father will never leave Bohinj either. "He is very attached, and my older brother and I feel the same way. For example, we didn't even go to kindergarten when we were kids – we used to fish and go to yoga classes with my dad. We also helped rent boats when we were eight or nine," he says with a laugh.
We joke that child labour is banned in Slovenia but it is clear that this is not the nature of a son's help to his father. It is rather a tradition that Bohinj people were born into – and one that they are now using to defy mass tourism.

This article was produced as part of the Union Is Strength competition, organised by Slate.fr with the financial support of the European Union. The article reflects the views of the author and the European Commission cannot be held responsible for its content or use.