08.06.2022
Eu Amo SAC: A second family and a safe home for the community
Since 2010, the program has welcomed dozens of young people every week and offered them academic support, advice, sports and artistic activities. All in order to keep them away from the dangers of the streets.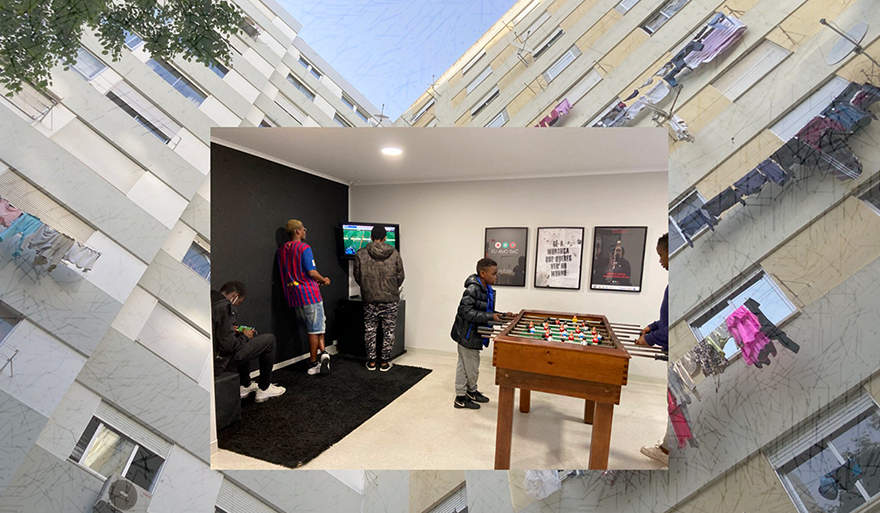 Santo António dos Cavaleiros (Portugal)
The Eu Amo SAC project has been loving Santo António dos Cavaleiros since 2010, seeking to promote solidarity and contribute to the prevention and reduction of risk behaviour in young people in order to promote their social inclusion. From the outside, it looks like a simple entrance to a residential building, just one more among the many on the outskirts of Lisbon. But as soon as one enters, he is surprised by colourful walls filled with memories, rooms filled with happiness and, without having to make much effort, one sees that he has entered the house where a real family lives.
From Monday to Friday, Raquel, the project's coordinator, born and raised in the region, is always the first to arrive at the centre's colourful rooms. With a degree in International Relations and already working in a large multinational in the Lisbon metropolitan area, she decided to change the course of her life when she realised how much the community where she grew up meant to her and her main objective is to promote and bring a sense of belonging to the community to all the children and young people who seek it. Raquel believes in people's potential, wants them to be loved as she has been throughout her years in Santo António de Cavaleiros and says that all those in need will find their doors open. "Built by people for the community" - these were the words of the main coordinator of the project which has already changed so many lives. "We are a second family".
Protect children from the dangers of the streets
From ten to twenty-five years old, children and young people find in Eu Amo SAC a safe haven, a home that often protects them and takes them away from all the social and family problems they experience at home. There are about fifty children per week, mostly Portuguese-speaking, with several migrants, mainly from Portuguese-speaking countries on the African continent.
The project's action is based on several pillars such as school support, family issues support, new technologies, social and personal skills, arts and recreational activities. The activities developed meet the interests of young people and allow monitoring through relationships and guidance in their choices, instilling life principles and values that structure a healthy path. The main objective is to keep children and young people away from streets that can sometimes prove to be very dangerous. In the suburbs of Lisbon, there is veiled racism, vandalism, drug use and violence that keep many children away from a dignified and fair life.
Raquel's dream is to transform this generation. "For us here in the project, these children are like our children to us. They are my children. We have a great responsibility in their lives. They feel free and safe to talk to us and they do. We are the ones they turn to in times of distress and sometimes we just need to be here to listen to what they have to say."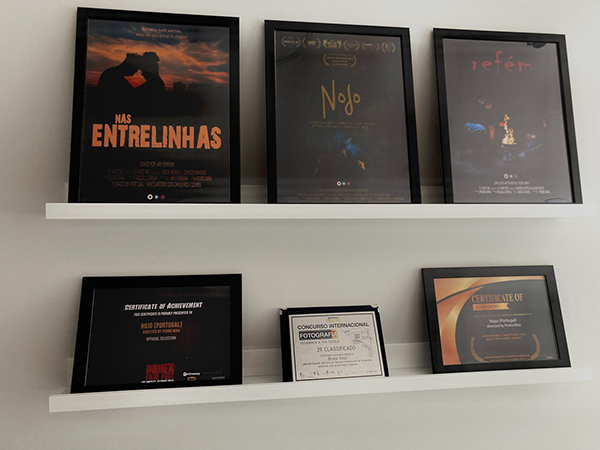 Among the many successes of the project, theatre and cinema stand out. Eu Amo SAC has already participated in some film festivals and many young people discover their vocation through the various activities organised by Raquel and her team. This is the case of Dioclésio, who joined the project in 2015, after discovering it through his cousins. He started there extremely shy, but when he discovered his passion for theatre, he lost all his shyness. He now dreams of studying theatre in Switzerland and enjoys the spotlight, showing a special appreciation for creating different characters.
Elisandro also discovered in his second home a great love for acting and cinema. Before that, he studied languages, but it became clear what he wanted for his future soon after arriving at the project. Having already produced a film under his name, he wants to finish school and leave for England, to study theatre and learn from the best.
Speak, listen, help
Both speak of a good adaptation to the centre, of a calm environment where everyone gets along and they see in Raquel someone who has always been and will always be there for them. They have learnt to believe in their dreams and to work so as never to fall by the wayside. Dioclésio found the focus, determination and courage to do what he loves and what he is really good at.
On the other hand, Clayton, 20 years old, who came from Angola, did not have an easy journey to Santo António de Cavaleiros. Always in a big rush between houses, he never really put down roots in one place, but since he arrived at the project his life has changed. He likes dance, anime and his passion for football moves him every day.
In the beginning he was also shy and had problems speaking in public, but after some time participating in activities held within the project, he changed completely and is now one of the main facilitators in Santo António de Cavaleiros. He talks to the younger ones, listens to their problems, helps them with their indecision and, above all, provides them with the distraction and fun that all children should have.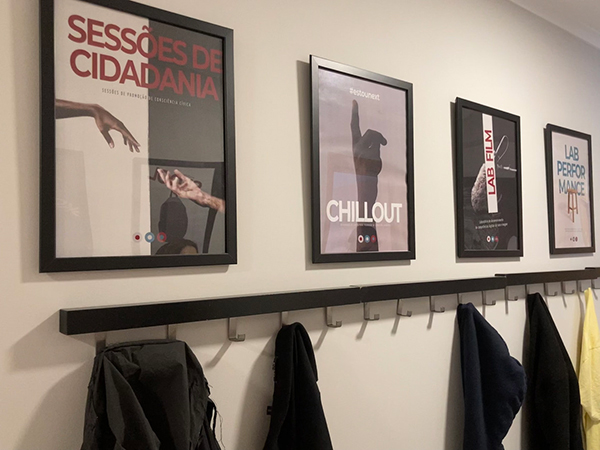 He feels a great responsibility as an educator of those children and wants them to have fun and grow up with an awareness of what they are worth and what they want to do, always without harming others. Characters such as Paul Pogba or Lionel Messi are models that he follows with special affection, but Clayton always tries to draw inspiration from everything he can throughout the day. His dream is to create a football club, open to the whole community, so that he can welcome children who share his passion for football and who are looking for a new safe haven. Clayton's advice to all young people? "Never stand still. Make the most of everything you can. Make the most of the present."
"It is a project to change lives"
Bruno, already twenty-one years old, was one of the first to sign up for the project and has known it since its creation. Currently, he no longer participates due to his age, but frequently keeps in touch and is always close by. He grew up with Eu Amo SAC and carries it in his heart. It was that family that took care of him for several years. He felt welcomed from start to finish.
"It is a project to change lives. It changed mine for sure. There is a lot of respect in this community for the project and everyone knows and supports it. It has shaped me and made me the person I am today. It is very difficult to explain to you what it meant to me. Come and see this project because the people who are here give everything for the children who come here destitute. Only by really feeling it and living it do you really know what I love SAC is. It's addictive!"
"Me, We, Us" - the motto of the project shows well the spirit of togetherness that lives inside those corridors, the household environment, with smiles, fun and tranquility that make one forget about the problems that many children should never have to deal with. The Eu Amo SAC is a second family, the first line of defence for many who seek and find a home there. "To love and to be loved" – one who comes across this poster in the building does not forget the spirit of the group.

This article was produced as part of the Union Is Strength competition, organised by Slate.fr with the financial support of the European Union. The article reflects the views of the author and the European Commission cannot be held responsible for its content or use.