06.07.2022
Virtual reality is helping "invisible" young people into jobs
In France's Hauts-de-France region, a charity is helping young people from disadvantaged neighbourhoods to take their first steps in the world of work – by using virtual reality!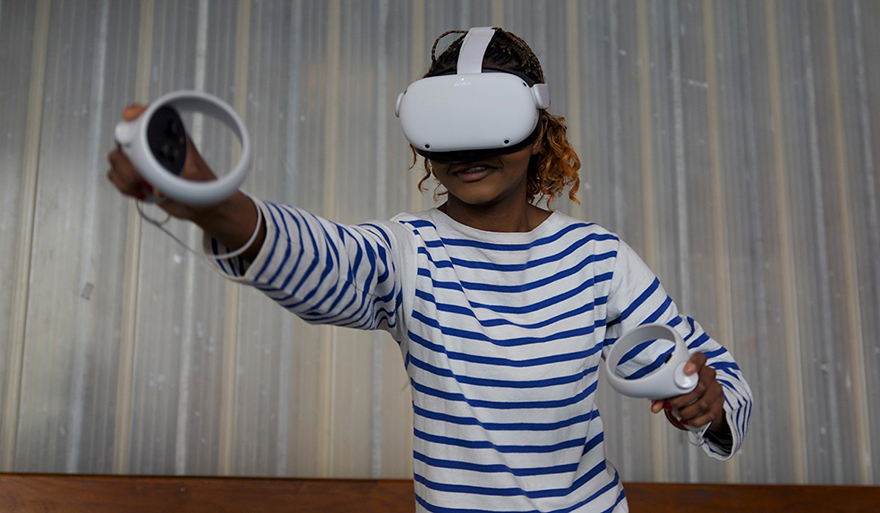 Amiens (France)
"As soon as you put on the gloves and boots, you can grab the soldering iron on your left." Brenda, 18, does just that with her virtual reality headset on and her controllers in hand. The young woman, a student in her first year of fashion and clothing studies, steps into the shoes of a welder for ten minutes. She mimics the gestures performed daily by professionals in the sector, just like "in real life". "It's crazy, I really felt like I was welding, it's very well done," says Brenda. A few metres further on, a young man is trying his hand at transporting heavy loads... virtually!
In early April, a small number of associations met in Amiens (in northern France) at the Emile Moiroud gymnasium, located in the western sector of the city. The aim was to offer the inhabitants of this priority neighbourhood a time to meet and mingle. About twenty young people, like Brenda, were able to try out Potenti'elles, a new scheme to help young people into work. It is run by Apprentis d'Auteuil ("Auteuil Apprentices"), a nonprofit foundation active since 1929 which supports children, teenagers and young adults in difficulty by means of education, training and integration.
To tackle job insecurity and isolation among young people in France's northern Hauts-de-France region, Apprentis d'Auteuil created an innovative scheme last year. Called Potenti'elles, it is partly supported by the European Social Fund. The aim? To reach out to young people living in priority neighbourhoods, particularly women aged 16 to 30, who are looking for guidance on their future careers.
Women at the center of the project
According to the foundation, young people in these neighbourhoods have twice the unemployment rate of those in the surrounding areas: "We noticed that, in the priority neighbourhoods, young people do not come to us, even though we are located near them. Because you need to have a minimum of self-confidence to take that step," explains Julie Millien, head of the Potenti'elles project.
"The scheme was designed to go directly to these young people who are somewhat invisible, rather than them coming to us. In these neighbourhoods, women too are particularly hit by socio-professional inequalities. They are less qualified overall and less integrated. This can also be explained by the fact that they have children at an early age and are therefore more easily isolated than men. We therefore wanted to pay particular attention to them."
Working directly with neighbourhood associations in Amiens, Abbeville, Creil and Soissons, the Potenti'elles team travels around the region at their request, when young people with vocational difficulties have been identified. The team, made up of six counsellors in total, takes virtual-reality headsets and tablets with them to help facilitate meetings and dialogue: "These digital tools allow us to quickly connect with young people, because it's fun," explains Julie Millien. "They then speak much more freely than if they were in an interview with a counsellor behind a desk."
Breaking down gender stereotypes
The team then has them try out different virtual-reality job experiences relating to sectors experiencing a hiring shortage in the region, such as welding, logistics and carpentry. "In our immersive virtual-reality experiences, these three professions are embodied by female characters, to show that access to these professions is not just for men."
And to further challenge the gender stereotypes specific to certain professions, the project team has also developed a game "which is aimed more at parents ", explains Julie Millier. It features a young woman who wants to work in logistics, but is afraid to tell her parents because of the assumptions they may have about these jobs. The aim is to break down persistent stereotypes. At the end of the game, video testimonials from young women working in "men's jobs" are featured to shed light on the current reality and encourage "families to support their children in their choice of career, whatever the job".
Personalised guidance
Once the immersive experience is done, the young people can register with the foundation to be accompanied for a few months in their steps towards a career, free of charge. This is the Potenti'elles+ scheme, personalised support that is tailored for the young person until he or she starts an apprenticeship.
"Our advisors do not come to the young people with a ready-made programme. They really do adapt to their needs," explains Benoît Mariage, director of training and integration at Apprentis d'Auteuil in Hauts-de-France. "For example, if a young person has a low level of schooling, they will be helped to brush up their skills. If they lack self-confidence, we offer coaching workshops. And if they have mobility problems, we help them get their driving licence."
Like about thirty other young people in the region, Josuet, 18, signed up for the scheme. Last year, this young woman, who lives in Beauvais (near Paris), failed her secondary-school leaving certificate. Not being able to repeat the year, she felt "a little lost in her direction".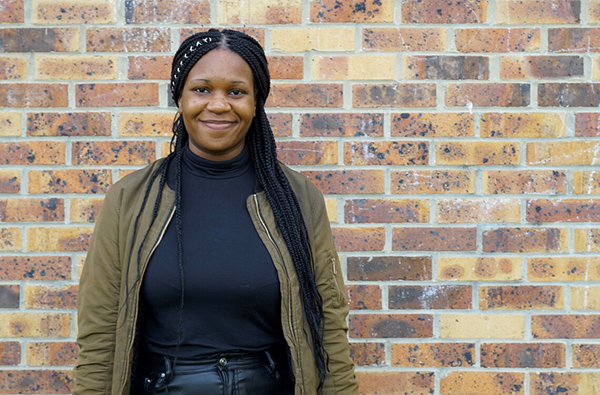 Accompanied by a vocational counsellor from the Potenti'elles+ programme since March, Josuet has redefined her professional project. She now wants to train to work in airports as a ground handler.
"Every week, the Potenti'elles team calls me to review and discuss the progress of my plans. They help me to stay motivated and support me in my administrative procedures, to find an internship and then to get into a sandwich course. Together, we have already drawn up my CV and my advisor will accompany me to my job interviews."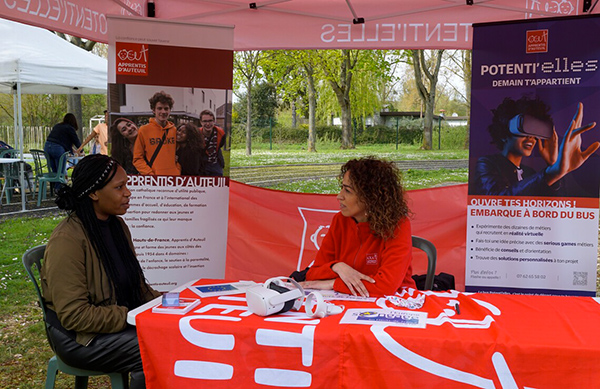 And to identify even more "invisible young people", the Potenti'elles team plans to travel the roads of Hauts-de-France in a bus decorated in the project's livery: "The idea is to stop in various neighbourhoods and villages, with the goal of not waiting for young people, but rather going to see them directly," explains Benoît Mariage. "Because the main obstacle for young people in the region is mobility".
On board the bus, the Potenti'elles team hopes to gain visibility and popularity in order to further promote work-linked training among these young people who have dropped out of school. And thus to open the way to a real professional future for them.

This article was produced as part of the Union Is Strength competition, organised by Slate.fr with the financial support of the European Union. The article reflects the views of the author and the European Commission cannot be held responsible for its content or use.