03.06.2022
In Rivesaltes, a haven of humanism and solidarity for migrants
The town's Training Center for Craft Trades has set itself the task of helping newcomers with their integration by teaching them French.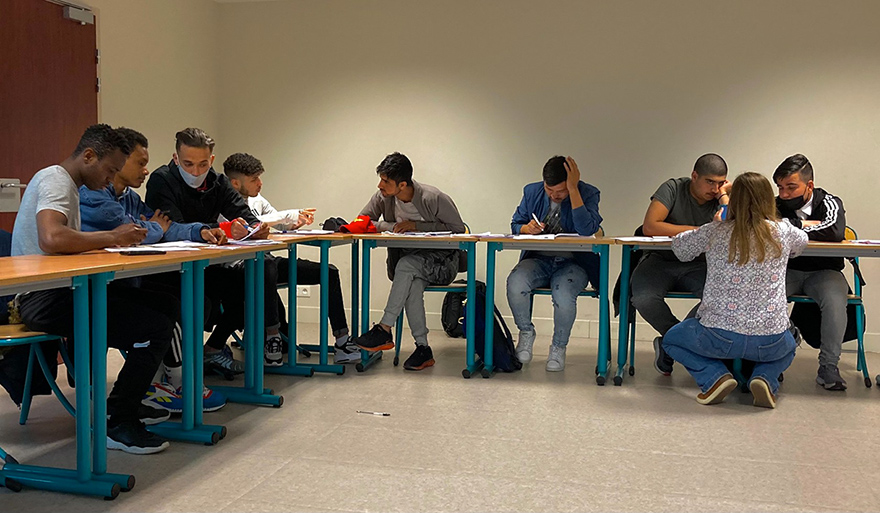 Rivesaltes (France)
This morning in Ms Peres's classroom the dictionaries are out for a lesson on safety at work. Using an alphabet written on the board, the students have to find a word, "consigne". Zakaria, who found the word first, is asked to read its definition out loud. He begins haltingly. The "i"s sound like "l"s and the "-tions" at the end of certain words do not help this beginner in French. But, helped by the patience of his teacher, Zakaria's definition of the word is understood.
In this class are 10 students from Burkina Faso, Algeria, Ethiopia, Ivory Coast, Tunisia, Afghanistan and Guinea. All of them found themselves on dangerous migration routes at a young age, fleeing wars, political repression and poverty.
A few kilometres from the classroom is the Rivesaltes camp memorial, whose permanent exhibition bears witness to the place of passage that the region was in the 20th century. Next to a map with scratched lines representing the movement of people to Rivesaltes, a legend reads: "Jews fleeing Nazi persecution, Spaniards from the Retirada, Gypsies expelled from Alsace-Lorraine: these exiles from European conflicts arrived in Rivesaltes from 1941".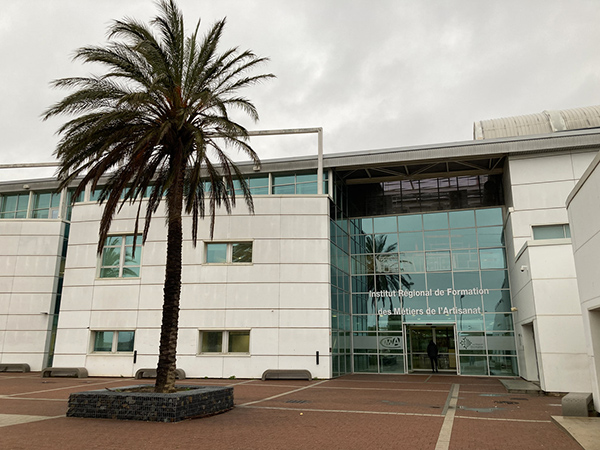 At the crossroads of migratory routes to the rest of France and Europe, Rivesaltes and its Centre de Formation aux Métiers de l'Artisanat (Training Center for Craft Trades, CFMA) is today a place where diversity reigns and where a certain vision of humanism and solidarity flourishes.
Significant diversity of origins and levels
The Chambre des Métiers et de l'Artisanat (Chamber of Trades and Crafts) of France's Pyrénées-Orientales region, where the CFMA of Rivesaltes is located, has two schemes aimed at an audience of migrants, many of whom are non-French speakers. The first is the Promotion Senghor, aimed at people who have found an apprenticeship but need to improve their French skills. They are offered to sign a 3-year contract (instead of 2) leading to a CAP (vocational training certificate). In the first year, two days a week are dedicated to learning French, while the following two years are divided between time in the company and general education.
The second scheme is the Prépa' Apprentissage (Apprenticeship Prep) for students who have not found an apprenticeship and need to improve their French to increase their chances of signing a contract. This course offers 4 days of French lessons per week for intensive language learning.
One of the main characteristics of the two schemes is the great diversity of students' origins and levels of French, which are routinely mixed. Faced with this diversity, the teachers have to adapt their teaching methods to meet the expectations of pupils who understand the importance of mastering French for their integration.
In class, the topics covered owe nothing to chance
An exchange recounted by Mr Nay testifies to this motivation. A pupil of Afghan origin refused to answer a question from the teacher, invoking the fact that his native language was Pashtun and not French, which he knew little of. The student was rebuked by one of his compatriots who replied in good French, "Ici c'est plus pachto, ici c'est français" ("Here it's not Pashtun, here it's French").
It is to this end that the use of translation is forbidden in Mr Nay's classes, as he believes that one should "learn the words in French and not in [one's own] language". Communication is also at the heart of this teacher's teaching methods. He insists that any word misunderstood by a pupil should be explained collectively by the class, with each pupil making a contribution to the definition so that it is understood by all. This approach is shared by Mrs Peres, who likes to associate the more advanced pupils with the newcomers to enable everyone to take part in the group's progress.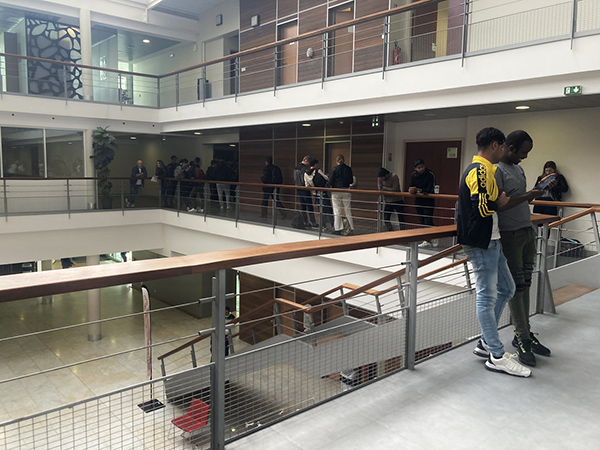 The choice of topics studied in class is not incidental and corresponds to the needs of these future apprentices. "In the morning we talked about workplace hazards," explains Amin, who wants to become an electrician and describes his safety equipment: "You have to wear glasses, a helmet, boots, a mask". Later in the day, the exercise consists of calling for help in case of an accident, a crucial task. Despite the seriousness of the subject, the class bursts into laughter as Ismael jokes about calling for help for his wife who has fallen off the sofa.
This careful choosing of topics, to enable students to better integrate into the social or professional environment in which they live, is also practised by Mr Arjelies, who is giving a French geography lesson. Because of the heated political situation in the country after the first round of the presidential elections, students have questions.
The ignorance of his classmates on the subject gives offence to Cyrille, who sums up the situation as follows: "There is the president who wants to unite the people and there is the other one who wants to divide us. [...] If Le Pen wins then we'll be packing our bags. You should pray for Macron to win."
Open everyone's minds
These different elements of pedagogy bear fruit with pupils, who are grateful for the teachers' work. Zabiullah, for example, congratulates Ms Peres: "You are doing a good job, Madame!" The method also creates solidarity and closeness among the pupils, which helps the group to progress both academically and personally.
A discussion in the absence of the teacher was particularly revealing in this regard. It burst into an outpouring of cultural diversity, where everyone drew on the depths of their meagre knowledge of French to exchange advice and experiences on job interviews. The warmth that emerged from this exchange echoed an image of a boat, conjured up by Mr Nay, in which all these young people found themselves.
In the longer term, the support offered by the CFMA of Rivesaltes, its Senghor Promotion and its teachers will have enabled 20-year-old Ladji from Mali to enrol in a bakery CAP where he is thriving and appreciated by all. Abdoulaye, from Ivory Coast, has been able to work in Mr Picard's garage – and, more significantly, to change the boss's mind.
Having previously said that he "preferred migrants to stay at home", Mr Picard admits to having become attached to Abdoulaye, an exemplary worker with exceptional human qualities. Sad to see him leave at the end of the year, he concedes: "From the outside we say that they should just stay at home, but as soon as we see it up close, we can only have compassion".
Marie-Paule Rando, in charge of the CFMA, also insists on humanity as a value: "I am convinced that there are more good people than bad. More people ready to offer a dignified welcome to migrants than people who reject them." This centre in Rivesaltes is a fine example of it.

This article was produced as part of the Union Is Strength competition, organised by Slate.fr with the financial support of the European Union. The article reflects the views of the author and the European Commission cannot be held responsible for its content or use.