27.07.2022
In the Pyrenees, a project for the future of young unaccompanied migrants
On both sides of the Spanish-French border, the AVENIR project has set out to train young unaccompanied migrants in a new profession and to better integrate them into a rural area that has suffered neglect and depopulation. Financed by the European Union, the project has set out to give a helping hand to these young people and to revitalise the region.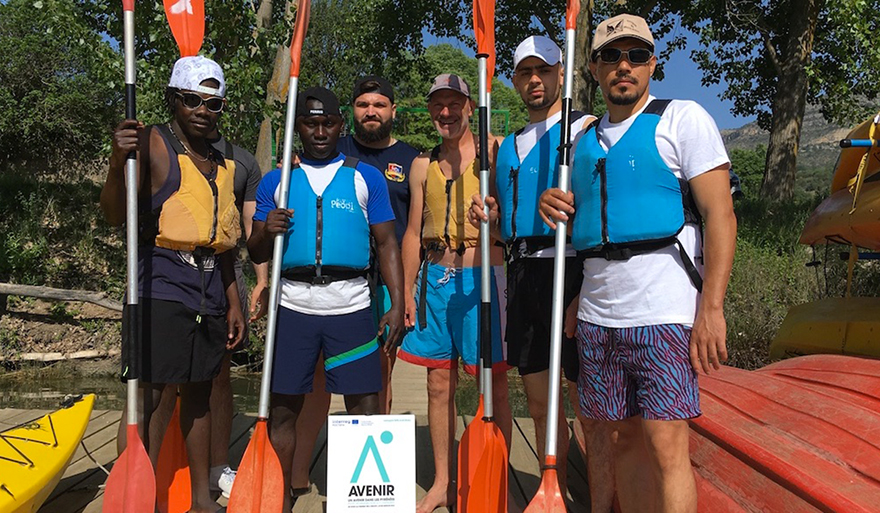 Rivesaltes (France)
Aboubakar is 19 years old. Coming from Côte d'Ivoire, he dreams of a better life. "In my country, we are a big family and I think there is a lot still to be done: democracy, freedom of expression, and schooling for all young people. I couldn't pay for the trip, it was an uncle who paid, and it was when I arrived in France, with the associations, that I discovered that people were paying to travel," he recalls. To get to France, he had to cross Mali, Algeria and Morocco before arriving in Almeria.
Once in Perpignan, Aboubakar was taken care of by Secours Populaire, which also helped him to write a CV and a covering letter. "I started out by looking for a sponsor in mechanics and bodywork, but no one called me back," the young man says. Forced to leave his hotel in Perpignan, he was sent to Rivesaltes, where he heard about the AVENIR project and its promise: "To those who travel thousands of kilometres in search of a story and a future".
There he joined a training course where he alternated between weeks in classrooms and weeks in a business, taking language classes and engaging in activities that help young people to discover and become familiar with the neighbourhood. The project, set up on both sides of the Pyrenees between France and Spain, aims to help young migrants and unaccompanied minors to settle in this mountainous region and to train for a job.
"I have two years left of my three-year contract and the boss is happy with me. He told me that if I finish my apprenticeship contract, he will hire me afterwards under a regular contract." Today, Aboubakar dreams of having his own mechanic workshop and bringing his family to France. It's a dream that may come true, thanks to the helping hand of the AVENIR project.
Integration and employment assistance
"The general idea of the project is to train and interest these young people in trades so that they stay in the area," explains Graziella Filoni, project coordinator on the French side of the border. Financed to the tune of 65% by the European Regional Development Fund (ERDF), the AVENIR programme is part of the European Interreg Spain-France-Andorra (POCTEFA) 2014-2020 cross-border cooperation programme.
For several years, AVENIR has pursued two goals: first, to improve access to employment and the integration of young and isolated migrant minors in the Occitan and Catalan Pyrenees, and second, to combat the progressive ageing of the population and the economic stagnation in this area.
The three-year project started in 2019. It was the winner of the third POCTEFA call for projects, and to be renewed it will have to respond to a new call for project tenders in 2023.
Around 100 young people are registered in the AVENIR programme, which ended in June. During their training, the minors were entrusted to the Children's Social Welfare Office, which was responsible for housing them. The entire process was partly aimed at obtaining papers for them, since schooling and permission for the unaccompanied minor to remain cannot be separated.
Although it is not compulsory for a minor to have a French residence permit, the obligation is strictly imposed on foreign adults, who are at risk of being targeted for deportation if they do not get one. "The prefectural services responsible for granting residence permits pay especially close attention to the social and professional integration of those applying for a permit," explains Graziella Filoni.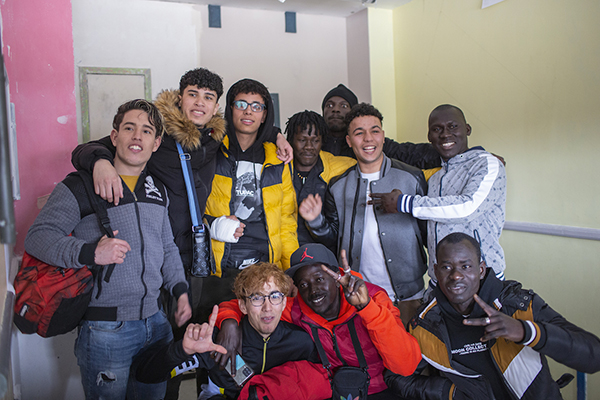 Young migrants are offered placements in a number of vocations: bakers, butchers, masons, painters and the like. In the apprenticeship they divide their time between the classroom and the company. "In total, they have about 400 hours of classes per year and the rest in the company, which lets them earn a wage of about €600 a month," explains the programme director. "On top of that, we offer them French language courses to help them move ahead."
"The advantage is that it's a training course that leads to qualifications and professionalisation, so it can be a factor in obtaining a residence permit more quickly when they come of age," concludes Graziella Filoni.
But the AVENIR project is not only about training. Activities are proposed to the young people to familiarise them with the rural and mountainous region, and to keep them there after their training. "This year, the young people went into the mountains to make a documentary on how people there make a living," says Graziella Filoni.
"They met dog mushers, a mountain guide, and so on. The experience let them see this area as a work opportunity and to learn about new jobs." Snow-shoe outings were organised during the winter, to build bonds between the young people and to open them up to the region where they may end up settling.
This, after all, is the primary objective of the AVENIR project: to keep these young people in this rural and mountainous region after their training and to make the area more dynamic by bringing in more workers – and also to have a workforce trained and qualified in the small-business sector.
A nice evolution
Created in 2019, the AVENIR project has evolved since then. "We didn't know how to go about it two years ago," recalls Stéphane Bouils, of CFA (Campus de formation des métiers de l'artisanat) in Rivesaltes. "Today we are organised and we have tools. Thanks to this project, we have been able to get involved with many partners, and the reality is that we have gone from twenty or so unaccompanied minors (UMs) last year to more than 42 today."
Aware of the project's impact, Graziella Filoni adds a qualification: "It would be presumptuous to say that, thanks to the actions of AVENIR, we will have transformed the future of these unaccompanied minors. But, certainly, we have had a positive influence." In particular, she stresses the familiarisation with the mountain environment with its career opportunities and quality of life, which benefits the young people and allows them to build the self-confidence necessary to build a future here.
As Stéphane Bouils points out, the results are encouraging. "We notice their commitment to the CFA, compared to the traditional apprentices that we are used to taking on."
To renew the project, the programme team will have to respond to a call for tenders. For the project coordinator, though, the first step has been taken. "Thanks to the AVENIR project, we have planted a seed. We need to go further: to professionalise our methodology, to ensure that all the unaccompanied minors in the vocational training centres can benefit from the training, to better coordinate the services that work with these young people – social services, educators, immigration services. By signing agreements, for example, that commit those institutions to results. And to ensure the best social inclusion, we need to go further in educating these young people in the founding values of our society: democracy, secularism, and equality between men and women.".

This article was produced as part of the Union Is Strength competition, organised by Slate.fr with the financial support of the European Union. The article reflects the views of the author and the European Commission cannot be held responsible for its content or use.