19.08.2022
Our next pandemic might be dementia and we are not ready
The number of people with dementia in France will increase by 82% between 2019 and 2050. Action plans are being put in place, but a number of medical and societal questions remain unanswered. Where do we stand today and are we prepared for what lies ahead?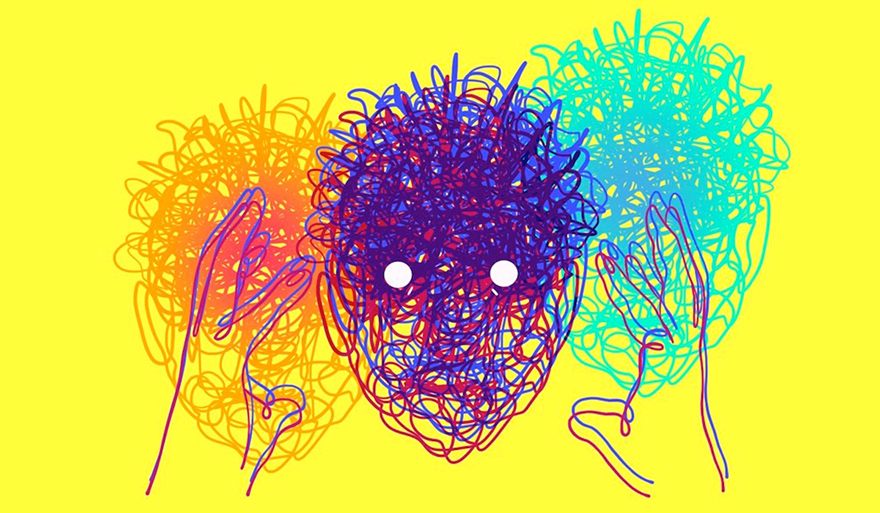 "We become aware of neurodegenerative disease when the symptoms are already present and the disease is therefore relatively advanced." Lea is a nurse in a hospital geriatric ward and looks after patients who are in an acute condition. In her view, there is a serious lack of screening which prevents people from being cared for in an appropriate and dignified way. "Carers often find themselves overwhelmed by the enormous work involved in caring for their patients. They are often alone in managing material and medical needs."
The solutions that exist today seem to be reaching their limits. She mentions outpatient facilities but adds that "the possibilities of placement remain limited both in number and in budget".
To reduce the burden on the carer, there are "day-care facilities" in Alzheimer's units, a few days a week. But once again "there are not enough places available".
The difficulty is to adapt to each person's needs. Some people do not need to end up in an elderly home. For others, the constant presence of a companion is necessary and a carer is not enough. For others still, there are no carers. "More and more care plans are being initiated at home, but end up in 'forced' institutionalisation due to lack of human resources."
By 2050, according to projections by the medical journal The Lancet, more than two million French people will be suffering from a dementia disorder[1]. The baby-boomer generation is entering its senior years, and while medical advances are making us live longer, they are also making us dependent for longer, with chronic illnesses that we used to die from.
In France the silver economy, which involves goods and services for the well-being of seniors, is a booming market. New concepts are emerging, such as a Silver Valley. Technological initiatives are being proposed in areas ranging from mobility assistance and home care to remote monitoring.
They correspond to people's desire to enjoy an independent old age. Such solutions can respond to the needs of dementia in its early stages, when patients' symptoms are barely visible to those around them. Later on, the confusion and anxiety can no longer be managed from a distance.
Dementia makes carers sick
"In the building next door, there is a woman who looked after her husband with Alzheimer's for several years." Colette has worked in social gerontology. She has seen almost every case in over 30 years. She tells the story of her neighbour as if it were a fairy tale.
With almost no help, except at a late stage for a nurse and someone to do the shopping, the neighbour accompanied her husband right to the end, at home. "They got on well, he didn't become violent or aggressive, so that must have helped. The extraordinary thing is that she did all this and he just died one day in his sleep."
But the tale that began in the style of a Perrault ends in the manner of a Grimm. "A few days after his death, she had a series of strokes and died." This says a lot, adds Colette Eynard, about the condition of carers.
Each case is different and will depend on the progression of the disease, the emotional attachment of the carers and the family and social context. But if there is one thing that is certain, it is that keeping a person with cognitive impairment at home takes time and money.
Family carers are often isolated and may end up forgetting their own needs. They may be of an age to become dependent themselves, and some of them die before the person being cared for. Many are unaware of the help they can get. "They don't consider themselves as carers", according to Colette Eynard, "They say: I am my father's daughter, not a carer."
According to a BVA April 2018 survey, "82% of carers devote at least 20 hours a week on average to their loved ones and 37% of those surveyed admit to receiving no outside help even though they are often elderly themselves."
"There are families who put cameras in their homes and watch the images non-stop, it's very anxiety-provoking."
Amélie works in an elderly care home. She has certain tasks in the Alzheimer's unit, and is in contact with people with cognitive disorders in the rest of the establishment.
Some of the residents adapt easily to the unit. For others, the change of environment can exacerbate their confusion and even cause slight emotional shock. Despite this, she does not think it is possible to keep people at home.
"It is very hard for the family on a daily basis. I don't think it's beneficial to let someone live at home with help because there are a lot of risks. The helpers are people who come in during the day for care and meals. But for someone who has cognitive problems, that's not going to be enough." Residents with dementia suffer from anxiety and part of the care is to constantly reassure them. One of the roles of the nursing staff is to "take the time to bring them back to reality."
Being independent for longer: a fantasy or possible future reality?
One of Europe's current initiatives is to take care of carers while developing technological solutions. The MONUMENT project is testing the concept of Odense houses in Northern France, the Netherlands, the UK and Belgium. The aim is to provide a place of respite for carers, while also offering activities to help carers and cared-for live better together in their daily lives.
These homes are based on a Dutch model. Sophie Bouthemy will be in charge of running one of them, in the town of Haumont. "The long-term objective is also to invest in technological solutions adapted to carers and the people they help after testing them there." Examples include GPS watches and fall detectors. The aim is to integrate these solutions into the community "without encumbering the existing facilities".
"We are testing. We are sharing our experiences with our European colleagues to see what works. It may not work. We're trying it out and we'll see how it goes."
As early as 1993, Colette Eynard was working with other European countries on the European Year of Older People and Solidarity between Generations. She recognises the importance of supporting carers and creating these places. However, she is wary of the "innovative" aspect of these plans, which she has already "seen 100,000 times". In her opinion, we must be careful to adapt the "models" to the local situation. "It is fine for a village to check out what is going on elsewhere, but they will make do with the means they have". She points out that such schemes are useful especially at the beginning of the disease.
There are regular new proposals and new plans for elderly care that address the discomfort of these early stages of dementia. However, the people affected often end up in nursing homes. Recent scandals in France involving large private groups such as Orpea, Korian or Bridge are proof that staff shortages and working conditions are already a problem today. According to the telephone hotline service (3977) to combat abuse of the elderly and adults with disabilities, "there was an explosion of abuse alerts in nursing homes in the first quarter of 2022".
The real innovation: human resources?
Amélie regrets that her residents in the Alzheimer's unit are seen as burdens rather than as human beings who simply need care. "Because people with cognitive disorders are very anxious, some doctors prefer chemical restraint, i.e. using drugs to calm them down. Sometimes, relational care is not enough, and I am not against treatment. But sometimes it's just for convenience."
For Léa, a nurse at the hospital, it is the lack of staff that will be most harmful to patients. "Although they have become indispensable tools for the care of these people, no machine or technology can replace the reassuring hand of a carer or his or her expertise honed by experience. This is true in all the professions that revolve around patients. New technologies are very good tools for patient care, but you need people behind them."
The progress being made to allow more independence and comfort for people managing their dementia is promising, and deserves to be known by carers and the cared-for. It seems, however, that although every effort is being made to ensure that the onset of the disease is smooth, once independence is no longer an option the individual suddenly loses a great deal of well-being and dignity.
There is a lot of investment in the autonomy of the elderly. Yet, if we really want to innovate in the management of dementia, we should probably focus on humanity at the time when the patient needs it most: the end.
[1] The authors of the study acknowledged the limitations of their approach, as their data are based on different definitions of dementia. In the article, the term dementia is used to include disorders that result in impairment of memory, reasoning, behaviour and the ability to perform daily activities, as defined by the WHO. It should be noted that not all neurodegenerative diseases result in dementia. For example, Alzheimer's is often associated with dementia, whereas Parkinson's disease is not.

This article was produced as part of the Union Is Strength competition, organised by Slate.fr with the financial support of the European Union. The article reflects the views of the author and the European Commission cannot be held responsible for its content or use.