27.05.2022
In Lozère, a generation of farmers passes the baton
In a department where 10% of the population lives from agriculture, the replacement of retiring farmers is particularly crucial.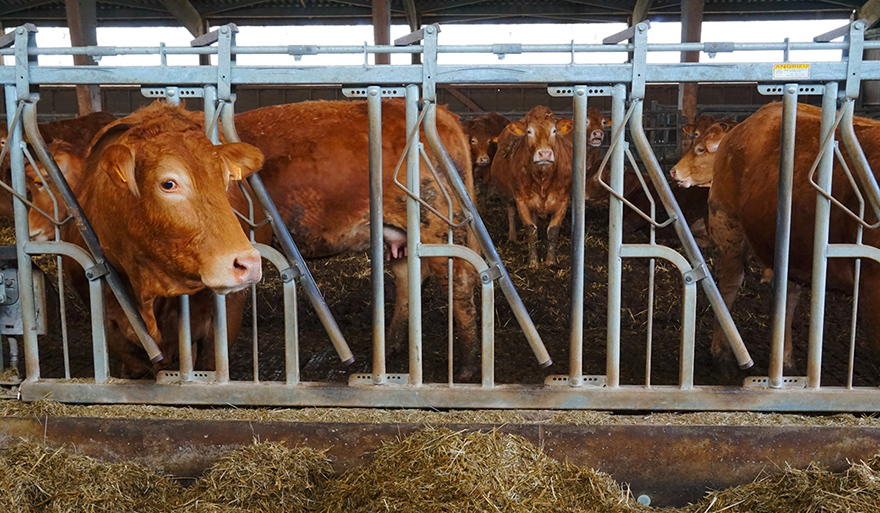 Chanteruejols (France)
One has to see the smile on Pierre Privat's face when he talks about his animals. It's the first day outside for his dairy cows: "I've just taken them out," explains the young man, with eyes sparkling. "We leave them outside until October, as long as there's grass, which is all they eat." And grass there is: a few weeks after the start of spring, it stretches as far as the eye can see from the hamlet of Chanterujols, situated at an elevation of about 900 metres, north-east of Mende, in France's southern department (county) of Lozère. On Pierre's farm, some of the animals are still inside and will soon move to higher ground. The dairy cows are already grazing peacefully under the April sun.
The 21-year-old is in the process of setting up his business. Like all the aspiring farmers in Lozère, Pierre has been through the local Point Accueil Installation (PAI), a one-stop shop which has been set up in all France's departments.
This is because by 2030, almost half of French farmers will be of retirement age. There will be far fewer newcomers than there should be. But Lozère has an exceptional replacement rate: for every farmer who retires, a young person starts a new farm. The department's PAI guides aspiring farmers through this difficult period, which is essential to the health of the sector.
The PAI, "the gateway for all projects"
In Lozère, this mission is carried out by the local branch of Young Farmers (JA, Jeunes Agriculteurs), a trade union which is close to the FNSEA national farmers' union. Accredited by the region's prefect (governor), the PAIs are required to be neutral. "The PAI is entirely non-union, completely neutral," says Hervé Boudon, president of the JA de Lozère and a PAI volunteer. "Here, we welcome everyone."
In Lozère, where 10% of the population makes its living from agriculture, generational replacement is particularly crucial. And the figures are good: for each farmer who retires, a young person sets up a business. On a national scale, the picture is less encouraging: more than one in three retirements is not replaced, even though over half of farmers will be of retirement age by 2030, according to Insee figures.
The PAI's premises are located on the edge of Mende, the department's main town, a few steps from the Chamber of Agriculture. Christine Beaumevieille, the manager, received 189 prospective farmers last year, most of them men aged between 20 and 35.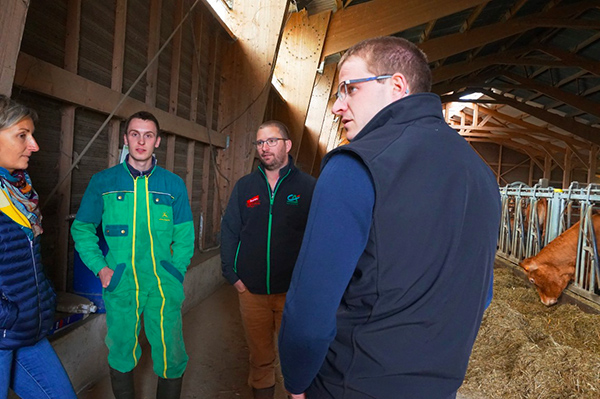 "We are the gateway for all these projects," she explains. "We are there to accompany them and direct them towards the bodies that can help them set up: the Chamber of Agriculture, the MSA [agricultural social security], banks, insurance companies, legal services... It's a wide spectrum." The process of setting up a business generally takes a year.
Passing the baton
That's why Pierre went to the PAI in April 2021, when he was in his second and final year of apprenticeship. Pierre is taking over the family farm from his father, Albert. The handover was an obvious choice for the young man. "I've always wanted to do this," he says, wearing his green overalls and a big pair of boots. "And I can't see myself leaving this farm and going to another."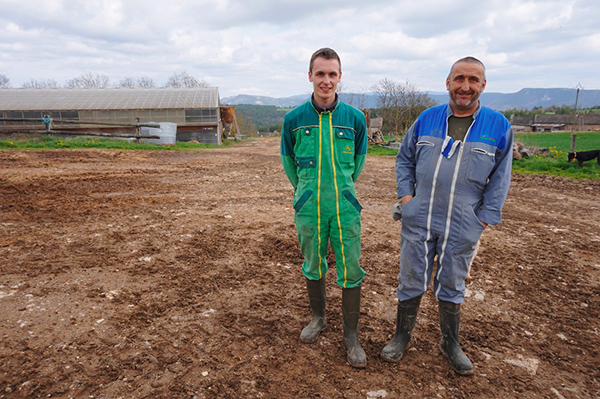 While Pierre has always helped his father, the two men now work in partnership. "We take decisions together," says Albert, 54 years old, a grey cap tacked on his head. "I let him get on with it a bit, otherwise there's no point. He has to bring his own touch to the farm."
"There is no problem with trusting me and all that," explains Pierre. "But on some things, we don't agree, it's a generational thing!", he adds. It took him almost two years to convince his father to buy a machine. It was a lengthy negotiation that he laughs about today.
"I thought it would be impossible for him to buy a mixer [a tool that mixes fodder evenly to feed the animals]. Before, he used to feed by hand in the morning and evening, so it was a bigger workload. He didn't see why it should change if he had always done it that way and it had always worked," he laughs. The investment, which was part of his business plan, finally went ahead last January. "In the end, he doesn't regret it."
A sharing of experience
The PAI is also an opportunity for established farmers to share their experience and advise newcomers. Recruited by Christine, farm managers regularly speak at mandatory training sessions for young people wanting to set up. "We tell them not to make the mistakes we made ourselves, to always be wary of this or that, of what was problematic when we were setting up," explains Nathan Mouret, a farmer and head of the PAI, who has shared his own experience this way.
In particular, farmers encourage young people to work as employees to gain experience before setting up. This period is also a chance to have a personal life. "Once you're on your farm with your animals, it's much more difficult to start your family life," explains Hervé. "I set up my own business at the age of 29, after 7 years of experience and after I had built a family life. I'm not sure it would have been the same if I had set up at 18."
Generational replacement is a key issue in farming and is at the heart of the sector's concerns. And while some eyes are turned towards Brussels, which is currently examining EU member states' plans for implementing the Common Agricultural Policy (CAP) for the years 2023-2027, Hervé's sights are set on the region. The regional government is responsible for setting the amount and payment of the Young Farmers' Grant (Dotation Jeunes Agriculteurs, DJA), a setting-up subsidy largely financed by the CAP.
"If the region manages to keep a decent DJA, that would be good," explains Hervé, now wearing the shoes of an elected trade-union official. In 2021, about fifty farmers, about half of the total, got up and running in Lozère with this aid. For their day-to-day expenses, the PAIs are financed by the region and can also access certain European funds. This was the case in 2014 with the ERDR-ESF Languedoc-Roussillon Operational Programme.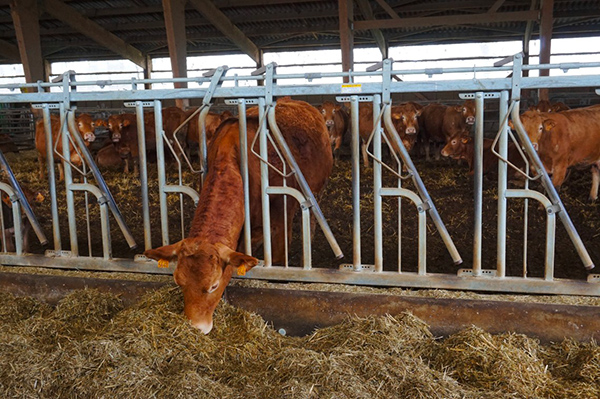 In Chanterujols, Pierre does not know what tomorrow will bring. "It's a bit difficult to plan, we don't know what it will be like in 10 years. Maybe we'll have to diversify more, change production... We don't really know," he says. Despite this uncertainty and the constraints of the job, Pierre is convinced that he is where he belongs.
"This is the family farm. The land has been here for generations, we know it almost by heart. It's the same for the animals", he says. "We really are farmers by passion." Before leaving the farm, Christine has business to settle. She turns to Pierre: "Would you be willing to speak at the 9pm class?"

This article was produced as part of the Union Is Strength competition, organised by Slate.fr with the financial support of the European Union. The article reflects the views of the author and the European Commission cannot be held responsible for its content or use.