11.06.2022
In Caen, an association is bringing an industrial wasteland back to life, one meal at a time
At the heart of Caen's industrial peninsula, a collective of sustainability-hungry citizens are among the first settlers of a neighborhood destined for gentrification. Through collaborative workshops and shared meals, La Maison hopes to recreate the link between the field and the plate and make healthy food accessible to all.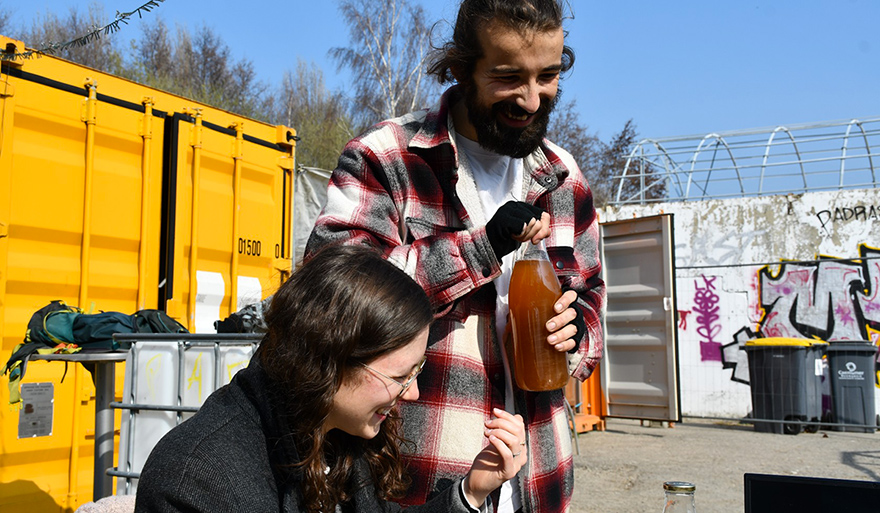 Caen (France)
Some tasty apple juice made of fresh, Normandy Jonagold. This is just one of the many local victuals served at La Maison, an ecospace promoting sustainable food on the site of an abandoned warehouse in the French city of Caen.
Sandwiched between the wilderness, a road and a Traveler community's camp, La Maison is one place of a kind. Some of its features include a food compost, a small kitchen garden and a caravan that insiders refer to as a dating spot due to its mysterious illumination and cozy vibes. Generous donors also offered chairs and tables to furnish the venue, and even cinema seats.
Nicolas Broussard, a Caen-born computer engineer who co-leads La Maison, is the guru of sustainable kitchen gardening. Experimenting with agro-ecological practices such as gardening on living soil, mulching, and crop association, he is very proud of the varied production that La Maison has achieved so far: spinach, tomatoes, squash, parsley, arugula, lettuce and fava beans. All these foods became the star ingredients of the ritual Friday lunches, attracting between 10 and 40 people each week.
"This is a home for the future of food," said Nicolas. "Health, ecological footprint, good taste... Everyone has their own definition of sustainable food. The idea is to have a space to talk about it, and do so in a pleasant and fun way."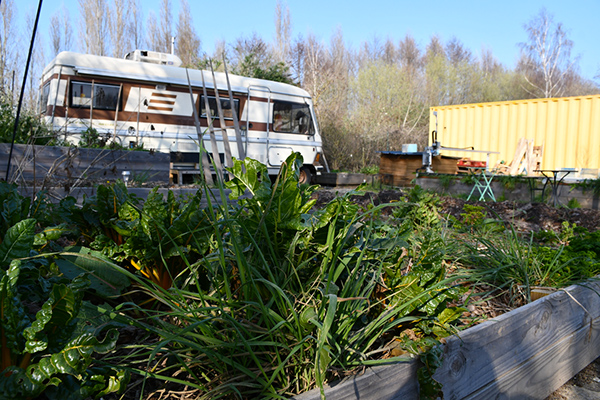 Nicolas and his four co-founders haven't yet materialized the plans that they had for La Maison when the project began, back in 2019. After a very publicized start coinciding with the end of RU:RBAN, an EU-funded program promoting resilient urban and peri-urban agriculture, the project still has a long way to go before completion.
To make La Maison a more vibrant center of associative life, the collective would love to share the space, lent by the city through a lease agreement, with other non-for-profit organizations. However, the local government has refused so far, according to La Maison leaders. "It's a pity because the venue is great and there are a lot of associations that would be interested in coming here," said Nicolas.
Another disappointment arose when the municipality forbade a chicken house which was already underway. La Maison also doesn't have a fixed access to water and electricity: they borrow them from a nearby gypsy community on an ad hoc basis. A roof could be of good use too in a city as rainy as Caen.
Despite all these constraints, La Maison is taking small steps to deliver its holistic approach to sustainable food. A series of anti-food waste workshops called "Empty your Fridge", whereby a paid volunteer creates healthy recipes based on soon-to-expire food brought by the participants, started in February.
"The goal is to promote practices that people can pick up. We want them to leave with techniques and recipes," said Marie-Hélène Denis, La Maison co-lead.
Social integration
A former job counselor in marginalized communities, Marie-Hélène has infused her social fiber into La Maison's roadmap. The collective has recently partnered with La Boussole, a day care center located just hundred meters away, to offer free workshops to the homeless and drug and alcohol users. One of these activities consisted in recycling wooden pallets into flower boxes, which would later be planted with tulips and placed as decoration in La Boussole's yard.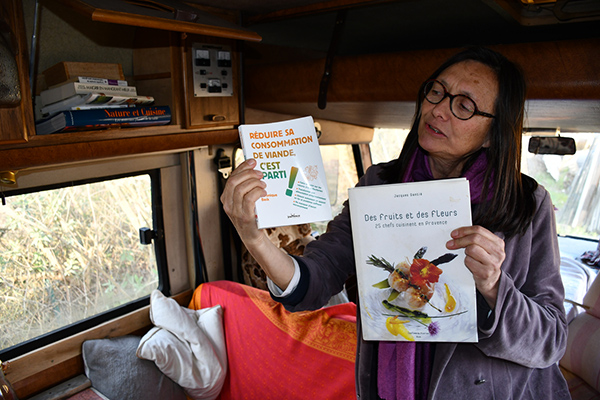 Marie-Hélène hopes to develop more community-oriented projects like this in the future. For instance, she envisions building a bar with La Boussole people so that they come more often to La Maison. She would also like to launch a series of cooking workshops with the local migrants center.
But for now, the collective is dedicating a lot of energy to a 1.5 hectare urban farm located in Fleury-sur-Orne, five kilometers away from the Peninsula. Since September 2021, Pierre, a professional market gardener, has been employed by the association to grow crops which cannot grow on the Peninsula's polluted soils.
"Yesterday we harvested artichoke, mangetout and sweet potato with Pierre," says Clotilde, one of the two trainees doing her civic service at La Maison. As she wants to be a market gardener later on, Pierre is a great example for her to learn the job, she said.
Marie-Hélène hopes that Clotilde will apply for a public tender for a 12-hectare land in Fleury-sur-Orne. "The idea is that the people who join us can develop their activity within La Maison," she says.
A new house for La Maison
Sooner or later, La Maison will move 50 meters further east to a disused warehouse nicknamed "Les Tonneaux" because of its shape. This 1,200 m2 warehouse was saved in 2016 from demolition by the URBACT Second Chance program, funded by the European Regional Development Fund (ERDF) in the same way as RU:RBAN.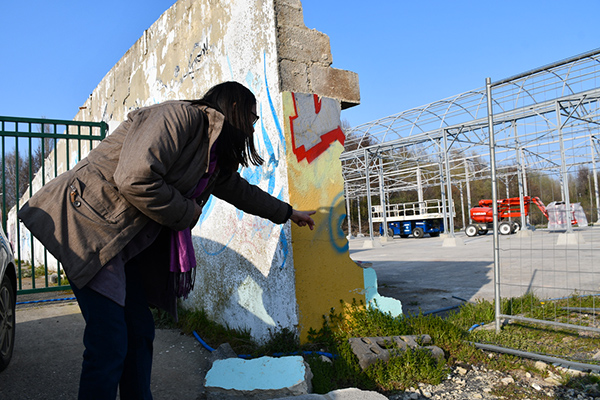 Second Chance was the name of a network of cities led by Naples that were trying to give a second life to derelict buildings with high symbolic value across European cities - "sleeping giants". The network was part of URBACT, the European exchange and learning initiative promoting sustainable urban development.
"Our 'sleeping giant' was not the actual warehouse, it was the peninsula," said Thomas Boureau, director at the Caen Normandie Metropole Urban Planning Agency and URBACT local group leader between 2016 and 2018. "The project had to be attractive in order to generate traffic and sell the surrounding real estate at a high price," he added.
According to Valentin Dieudonné, an urban planner at Communauté de Communes Cingal-Suisse Normande, and his friend Julien Poisson, a PhD student at Caen University, the Peninsula will become one of the city's most sought-after districts.
The eco-district Nouveau Bassin spans 40 hectares and is intended to accommodate 2,500 housing units and 35,000 square meters of commercial real estate, according to a projection done by the City of Caen. The barrels will act as a door between the future neighborhood and a new tramway terminus, which the city said could be inaugurated in 2027.
The Tunnel
In addition to the warehouse, the URBACT Second Chance project designed an action plan to renovate the "Tunnel," a former concrete factory, into an artistic center. But in mid-march 2022, four years after the end of the URBACT project in Caen, the building was shut with no signs of activity. Opaque plastic patches awkwardly barred its large broken glass windows.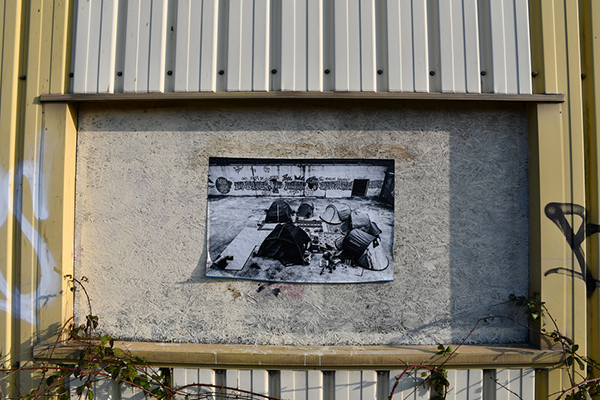 A few photographs put on display on the factory's walls demonstrate that the building was once occupied by migrants who developed a campsite on the spot. According to a Ouest-France article, about thirty refugees, including four families and ten children, were evicted from the premises in February 2017 by the police.
Currently, the warehouse into which La Maison is due to move in looks more like a metallic skeleton than a real house: the roof and walls have been stripped away after the URBACT project to prevent the structure from collapsing in the event of a storm, said Thomas Boureau from the city's planning agency.
"We would like our future kitchen to have a roof," said Marie-Hélène. "But we need more money if we have to build it ourselves."

This article was produced as part of the Union Is Strength competition, organised by Slate.fr with the financial support of the European Union. The article reflects the views of the author and the European Commission cannot be held responsible for its content or use.