07.07.2022
A training course in market gardening for more sustainable food
For the past six years, Forem Secteurs Verts in Ath, Belgium, has been offering training in small-scale organic vegetable-growing. Each year, a dozen or so trainees choose this course in order to start new careers in contact with nature.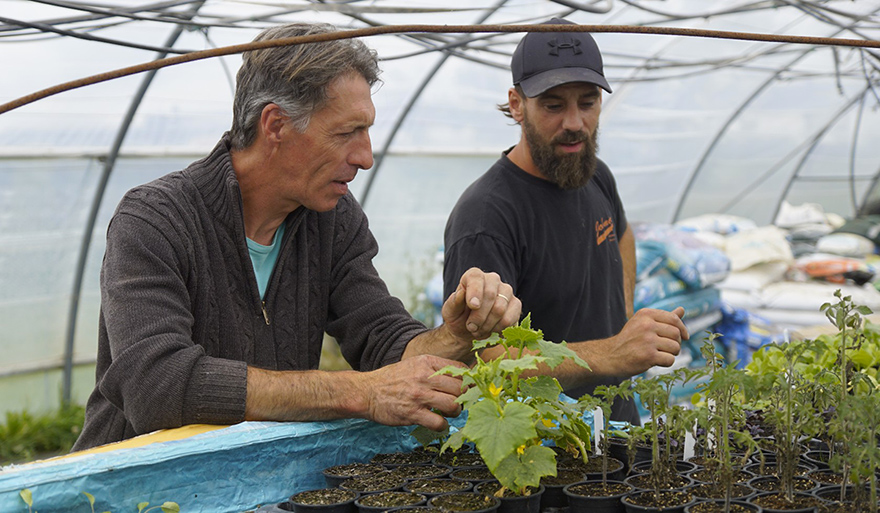 Ath (Belgium)
In the heart of the Walloon countryside in southern Belgium, Laurent Dorchy, an organic market gardener and trainer, explains the afternoon's programme to his trainees. Among other things there will be repotting, lettuce picking and courgette planting. On this afternoon in May, the weather lends itself to outdoor work, but that is not always the case. "There was a lot of heat in Belgium a few weeks ago, and we had to get used to working in a greenhouse", recalls Eve, 35, who has been training since March.
This former PR officer signed up for the course offered by Forem (the Walloon organisation in charge of employment and vocational training) in order to leave her desk job and reconnect with the soil. Near the greenhouse, the training centre has a plot of land on which the trainees grow different varieties of vegetables.
A practical training
Geoffrey, a former bank manager, helps his fellow trainees plant courgettes. A mid-life crisis, junk food and children were all factors that prompted him to change careers and leave his job at the bank.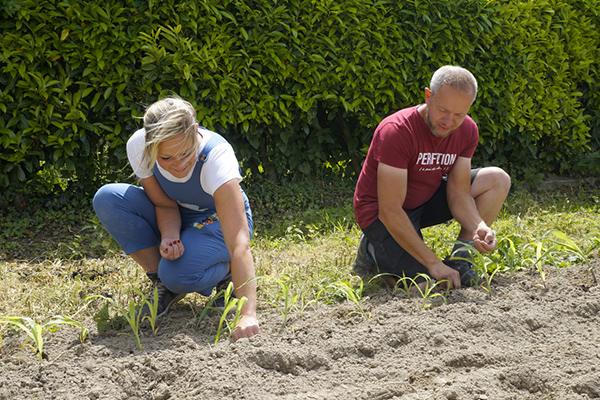 Already interested in gardening, he started his permaculture vegetable garden during the Covid lockdown: "I was an asset manager, but I was disillusioned with the profession. I decided to take the plunge and enrol in the Forem course. I had already done a lot of research beforehand, on the internet, but I had no practical knowledge. It was experience that I lacked."
The training is given at Forem Secteurs Verts ("green sectors") by Laurent Dorchy, one of the five trainers. This Walloon skills centre has six in-depth training courses in nature-related sectors with labour shortages. Supported by the European Social Fund (ESF), the initiative is coordinated by Forem.
A retrained market gardener, Laurent Dorchy wanted his course to be practical above all: "The aim for the trainees is to develop an organic market-gardening business on small plots of land, as self-employed entrepreneurs, so that they can live off their venture. I didn't want to teach them the conventional trade, with pesticides, on large plots."
There are two main schools of thought: intensive organic farming and permaculture. The first is considered bad for the environment and the second unprofitable. "I believe, on the contrary, that we should not set them against each other, but rather find synergies. An organic market gardener on a small plot of land, one or two hectares, can make a profit with a turnover of around €50,000. He can pay himself, his suppliers and his expenses." The world is changing and consumers no longer have the same expectations. For Laurent Dorchy, "we could have one market gardener per village."
Prevention, not cure
The trainees are trained for eight months on a full-time basis, whether they were robotics technicians, PR officers, bricklayers or secretaries. Each week, they have two days of practical work at Forem, two days of internship at a market garden and one day of theory. Although the training is dense and demanding, they all share a desire to rethink their consumption habits, to play a part in sustainable food production and to build a better world for future generations.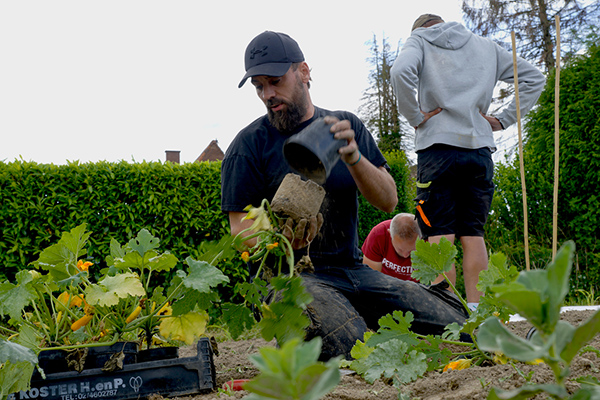 With four children and twenty or so hives, Cécile has seen how deeply interested young people are in bees. In fact, she regularly involves them in her own beekeeping. A nurse for 15 years, she never imagined that at the age of 40 she would change not only her career, but also her way of life. Covid-19 got the better of her motivation: "A lack of staff, deteriorating working conditions, patients left in isolation: my job as a nurse had become too oppressive," she confides.
When she decided on a career change, the idea of opening an educational farm had already been in her head for several years. "At the age of six I said I wanted to be a farmer, but in the end I became a nurse. I still want to be a nurse, but in a different way. Being a market gardener means taking care of plants and the planet," she explains.
"Forget the image of the market gardener in straw hat under a cherry tree"
It took a few months for the trainees to get into the rhythm and get used to the hardships of the job: being outdoors, dealing with the weather, being physically fit. Although most of them had already been growing vegetables as amateurs before their career change, it is not the same thing to do it full time.
"These are jobs that are on the rise and sometimes people have a rather idyllic view of the market gardener, in a straw hat and sitting under his cherry tree. I prefer to be quite clear when I present the course. These are physical jobs and the hours are demanding: early in the morning and sometimes until late at night. And it is a job you do every day, all year round," explains Laurent.
Despite the difficulties, Geoffrey, the former banker, knows that he can count on the support of his family and friends to help him. Still, he is aware of the family sacrifices he will have to make when he launches his full-time business. For this man who has made a 180° turn, the challenge is worth it: "In banking, I was more involved in destroying the world than rebuilding it. When I started to take an interest in what was on my plate, I knew that what I wanted to do was to make quality produce and feed people."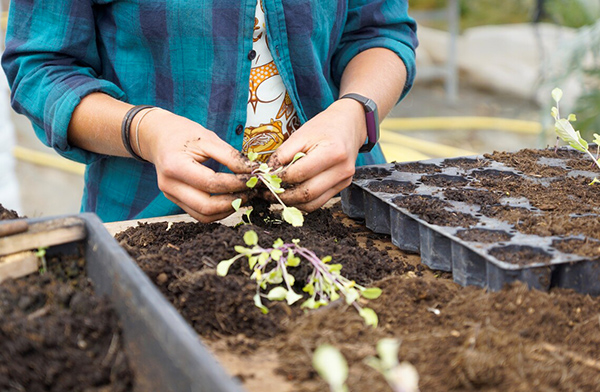 The training is mainly aimed at those on unemployment benefit. They are guaranteed to receive their benefits in a non-degressive way for the duration of the course. Trainees also have their transport costs paid. "I am aware that my previous job has provided security for my family. Of course, I want my work as a market gardener to be profitable, but that is not the main thing. In my case, the priority is to find meaning again."
Geoffrey had a decent income for many years, but that is not the case for everyone. Although training at Forem is free, trainees are paid only one euro per hour before tax. For those not entitled to unemployment benefits, it can be hard to survive on savings for eight months and then invest to start a business.
"Some Walloon organisations lend money to people who want to start up, so that they can buy the necessary equipment. They charge a higher interest rate than the banks, but they are less reluctant to lend. And investing in the soil is a sustainable project," insists Laurent Dorchy.
Ongoing projects
Some projects have already started. This is the case of Cécile, who trained in beekeeping three years ago: "I would like to create an educational farm with bees and other animals and develop organic market gardening. I would like to help children understand, on their school outing, the importance of protecting bees, for pollination and market gardening and for humans in general." Beyond vegetable production, her project aims to be pedagogical, based on education and the sharing of knowledge.
All of them have ideas about their future business plan, but plans sometimes change. "Compared to what I see on the course or the internship, there are things I would do differently," remarks Geoffrey. He dislikes the use of plastic, a common practice among market gardeners which reduces the need for weeding.
"It's horrible, it's a huge waste, because the plastic is thrown away afterwards. Going organic is fine, but I think it's essential to think about the project as a whole, in an eco-responsible way. I don't want to have a negative impact on the land, although I understand that when you have large areas, putting plastic on them can be an incredible time saver."
Each apprentice market gardener is on a different internship, which allows them to share their knowledge during the training days. Geoffrey's coursemate Thomas explains that at his farm, the farmer uses mulching, a more "natural" and soil-friendly technique to prevent weeds.
"In 20 years of intensive agriculture, we have gone from 2 tonnes of earthworms per hectare to 200 kilos. Beyond the human benefits of organic farming, we also have to think about the long term and about preserving the soil, so that it is rich in nutrients to feed the plants," concludes Geoffrey. Beyond feeding humanity, organic market gardening can be part of a sustainable solution for the entire ecosystem.

This article was produced as part of the Union Is Strength competition, organised by Slate.fr with the financial support of the European Union. The article reflects the views of the author and the European Commission cannot be held responsible for its content or use.